Back End Web Development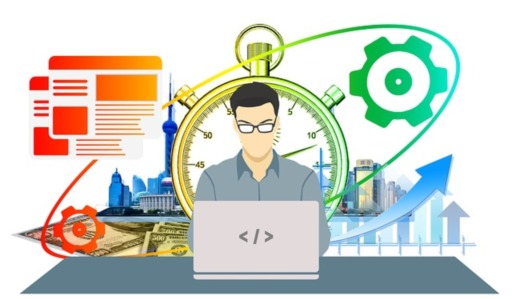 Description
Structure
Eligiblity
Venue
Course Description
Today fully dynamic websites and web apps are very demanding. There are many individuals and companies are looking to have their own web applications. These are very popular, instant and easy medium to communicate with users, customers or clients. One can easily express themselves to the world with their information, products and services. But now the question is how to develop such websites and web apps?
This course is designed for Web Designer who have some working knowledge of Web Designing with HTML5, CSS3, Bootstrap and Javascript. We will cover all the Back-end development in very details in this course. You will know all the processes, steps and technologies involved to develop web apps. You can start building powerful, fully dynamic, highly professional, modern website and web applications using the latest technologies and tools. At the end of the course you will be able to design, develop and deploy powerful modern websites and web applications by yourself without taking any help.
What will your achieve at the end of this course and what will be able to do?
You can setup web hosting and will be able to do some basic hosting and server management.
Confidently you will be able to design, develop and deploy your websites and apps.
You will be able to use Twitter Bootstrap to design responsive websites and apps on different devices and platforms.
You will be able to save some useful profile details and information of your user at the user side with local storage database.
You will be able to develop dynamic database driven website using PHP & MySQL.
You will be able to make database query and can develop dynamic pages like signup, logins, user profile and many more things.
You will be able to do develop fully dynamic pages in Core PHP and other scripting programming languages.
Apart from using core programming languages you can also easily setup the website using WordPress.
What is the scope and future after completing this course?
Top demanding sectors are Web Development, Software Development, Mobile App Development, Web Hosting and Digital Marketing. 
Top demanding jobs are Front-end Web Developer, Back-end Web Developer, Web Application Developer, Web Marketing Analyst and UI Designer.
Work as a freelancer and earn very decent income at home or start your own Web Development or Software Development company.
Free 1 Week Trial Class!
Edudew is giving free one week trial class to all of the students who enrolls in this course. Once you satisfied then you can purchase the course. If you had paid already then full money will be refunded till the first week.
Course Structure
1st Week:
1. Introduction and Course Overview (Duration: 120 minutes)
Know everything about Internet, Web, Web Pages, Websites, Browsers, www Protocol, Hyperlink, SEO and DNS
Know about Web Design, Web Development and Web Applications
Introduction to Clients and Servers
Know about Domain, Web Server and Hosting
Website GUI, Front-end and Back-end introduction, comparisons and uses
2. Setup, Installation and knowledge of necessary tools and software (Duration: 120 minutes)
Setup and Installation of XAMPP server
Installation of NetBeans IDE
Installation of Notepad++, Geany and Brackets code editor
Installation of FileZilla FTP client
Installation of Node.js & Git
2nd Week:
3. jQuery (Duration: 60 minutes)
Introduction to jQuery
jQuery Implementation
jQuery Syntax
jQuery Selectors
jQuery Effects
Show-Hide, Fade, Slide Effects, Animate, Stop and Callback
jQuery with HTML and CSS
jQuery Form
jQuery Events
jQuery UI
4. JSON  (Duration: 60 minutes)
Introduction to JSON
JSON Syntax
Differences between JSON and XML
JSON Data Types
JSON Parse
JSON Stringify
JSON Objects and Array
JSON with PHP
JSON with HTML
JSON with JSONP
5. Angular JS (Duration: 120 minutes)
Introduction to AngularJS
AngularJS Expression  AngularJS  Modules
AngularJS Directives
AngularJS Model
AngularJS  Data Binding
AngularJS Controllers
AngularJS Scopes
AngularJS Filters
AngularJS Services
AngularJS Http
AngularJS Tables
AngularJS Select
AngularJS SQL
AngularJS DOM
AngularJS Events
AngularJS Forms
AngularJS Validations
AngularJS API
AngularJS Animation
AngularJS Application
3rd & 4th Week:
6. PHP (Duration: 360 minutes)
Introduction to PHP
Write your first PHP Code
Know about PHP syntax and comments
Variables, Data Types and Operators
String, Number and Constant
Include and Required
PHP Array
Controlled Code Structure using If Else and Switch
PHP 'For', 'For Each', 'While' and 'Do While' Loop
PHP Functions
HTML Form handing in PHP
PHP Cookies and Sessions
File Processing
Exception & Error Handling
Working with File and Directories
Introduction to OOPS
PHP Mail
Some other useful functions
7. MySQL (Duration: 120 minutes)
Introduction to Database and MySQL
Connection with Database
Create, Select and Drop Database
Create, Alter, Truncate and Drop the Table
MySQL Database Views
MySQL Queries with INSERT, UPDATE, DELETE and SELECT a Record
MySQL WHERE, DISTINCT, FROM, ORDER BY, GROUP BY and HAVING Clauses
MySQL AND, AND OR, AND OR, LIKE, IN, NOT, IS NULL, BETWEEN Conditions
MySQL Join
MySQL Aggregate Functions
Some other useful Functions
5th Week:
8. Cake PHP Framework (Duration: 60 minutes)
Introduction to Cake PHP
Model Creation for Database Table
Controller Creation
Views Creation
Cake Session
9. Wordpress CMS (Duration: 60 minutes)
Introduction to Wordpress
Basic User Interface of the Workpress
Finding and Using Wordpress Plugins
Working with Wordpress Themes
Wordpress Content Management
10. APIs, Basic SEO & other useful things (Duration: 120 minutes)
Introduction to APIs
How, When and Where to use API
Some examples of API with Weather, Google Map, SMS Gateway API and Twitter API
How to use and write htaccess rules
On page SEO, Off page SEO and useful SEO tricks
How to use caching on your server and web pages
6th & 7th Week:
11. Live Projects & wrap up everything (Duration: 480 minutes)
Start Developing your own web pages and apps
Setting up live Web Server
Web Hosting Control Panel Training
Know about different types of Server Control Panel e.g. cPanel, Plesk, Webmin and Virtualmin
Setting up Email, Domain and Virtual Servers
Work with FileZilla FTP client
Work with Putty SSH client
Some useful commands
Course Eligiblity
Good Creativity and Imagination
Good Knowledge HTML5, CSS3, Bootstrap and Javascript
Minimum qualification is 10+2, however preferred Bachelor's degree holder
Should have own Laptop or Desktop with Web Camera, Microphone and Optical Mouse
It would be great if you have Tablets or Smart Phone
Should have good Internet Connection
Quite / Sound proof room or place
Course Venue / Schedule
Summary
Location:
Virtual Class (Weekend)
Duration:
20 Nov 2021 to 02 Jan 2022
Time:
05:00 PM - 07:00 PM
Fees:
INR 7,501